Hours
Lewis & Clark: The National Bicentennial Exhibition, presented by Emerson, will be open to the public from January 14 until September 6, 2004 at the Missouri History Museum during the following hours:
Wednesday through Monday
10 a.m. - 6 p.m.
Tuesday
10 a.m. - 8 p.m.
Summer Hours
Monday through Thursday
10 a.m. - 8 p.m.
Friday through Sunday
10 a.m. - 6 p.m.

Ticket Information
Tickets on sale now at the Missouri History Museum. Tickets also available at all MetroTix locations. Charge by phone (314) 534-1111 or online at metrotix.com.
General admission charges for individual visitors are as follows:
Adults - $12
Seniors - $10
Children (6 to 18) - $6
5 and under are free
Members receive reduced or free admission
(please see below for details)

Members
Join MHS today and experience the exhibition like no one else! MHS members will receive invitations to Lewis and Clark exhibition previews, special curators' lectures, children's programs, book signings, and bus tours. Members may also participate in our members only Lewis and Clark Study Tours! Four interesting travel options await MHS members in 2003: a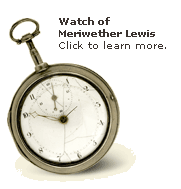 Pacific Northwest cruise, a Montana adventure, a Native American cultural tour in North Dakota, and a guided tour to New Orleans celebrating the Bicentennial of the Louisiana Purchase and featuring the art exhibition Jefferson's America and Napoleon's France.
Members also receive free tickets to the exhibition in St. Louis based on membership level: Senior and Regular receive 4 tickets, Family Plus receive 6 (six) tickets, Contributing receive 8 (eight) tickets, Sustaining receive 10 (ten) tickets, Sponsoring receive 12 (twelve) tickets and Thomas Jefferson Society receive unlimited free admission. Additional exhibition tickets may be purchased by members at half price. For more information call (314) 454-3101 or email: join@mohistory.org.

Tour Groups
Groups of 15 or more can make advance reservations and receive special admission rates. For more information, please contact our Cultural Tourism Department: (314) 361-9017 or email reserv@mohistory.org.

Student Groups
Advanced reservations and student admission rates are available by calling (314) 361-9017 or email reserv@mohistory.com

Hotel Packages
The following are wonderful packages for visitors to the Lewis & Clark Exhibition:
Explore St.Louis
www.explorestlouis.com
Travel Portal provided by the St. Louis Convention & Visitors Commission. This web site features complete travel information for St. Louis visitors, and resources and planning assistance for group tour planners and meeting planners.