n 1804, Captains Meriwether Lewis and William Clark led a U. S. Army "Corps of Discovery" from St. Louis up the Missouri River into the vast, newly acquired Louisiana Territory. Following instructions from President Thomas Jefferson, their aim was to become the first Americans to traverse North America to the Pacific via an imagined water route.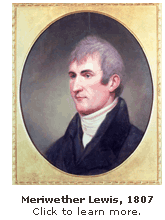 Along the way, they were to map the continent's interior, collect plant, mineral, and animal specimens for science, and, most significantly, develop relationships with diverse tribes of American Indians.
Lewis and Clark both succeeded and failed. Simply reaching the Pacific and returning to St. Louis in 1806 with only one life lost was an astounding accomplishment, and the storehouse of knowledge they acquired on their journey transformed their countrymen's image of the West. But there was no feasible water route to the Pacific, and the important aim of bringing western tribes into commercial and political alignment with the United States had been impossible to achieve.
The Missouri Historical Society's Lewis & Clark: The National Bicentennial Exhibition follows the Corps of Discovery from the banks of the Mississippi and Missouri Rivers through the human geography of western North America.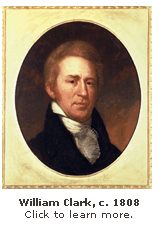 Today, the journals of Lewis and Clark provide a priceless glimpse into a world few of us can imagine. Theirs was a journey into new cultural and mental landscapes as well as new lands.
Beyond the city of St. Louis, they were in an Indian world of age-old trade networks, achievements in art and oral literature, and an intricately exploited environment. As men of the Jeffersonian Enlightenment, the captains saw the West through preconceptions formed by their European cultural heritage. The native societies they met imagined America very differently.
This exciting exhibition will compare the assumptions of Lewis and Clark and the Indian peoples they were among on such topics as politics and diplomacy, women, geography, animals, military heroism, language, trade and property, curing and health, and plants.
These cultural contrasts reveal how the expedition overcame barriers to communication—or failed to overcome them.