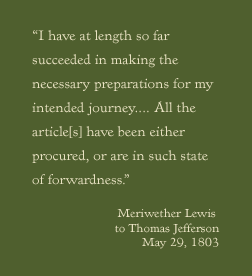 INTRODUCTION TO UNIT
Target Grade Level:
High School, Grades 9 - 12
This unit focuses on preparations for the expedition. It provides background information on Thomas Jefferson as the trip's inspiration and looks at reasons for Jefferson's interest in the expedition, including geographic, economic, and scientific aspects. The rest of the unit uses Lewis's trip to Philadelphia as a foundation for students to consider the importance of preparation. Students will understand some of the challenges inherent in preparing for the unknown. By reading primary and secondary documents, students will learn about the people and institutions of Philadelphia that made it a good place for Lewis's preparations. They will learn how discoveries can be guided and shaped by expectations, supplies, and knowledge. Students will reflect upon the idea that our life is a journey of discovery, and along the way we need to prepare by predicting what we will need to have and what we will need to know.
Explore Connections to Today for this unit.
MAJOR UNDERSTANDINGS
Preconceptions shape preparation.
ESSENTIAL QUESTIONS
How do you prepare for the unknown?
How can you predict what you will need to have?
How can you predict what you will need to know?
KEY KNOWLEDGE OBJECTIVES
Students will:
know what essentials are needed to "successfully" prepare for a journey into the unknown
know what was known of the North American interior by different people prior to the Lewis and Clark expedition through maps showing the route area before the expedition, the Louisiana Purchase, and sources such as letters to the parties involved in the exploration
understand historical, geographical, and diplomatic contexts of the time and how this influenced preparation
know who was interested in the area and the motives behind that interest by various nations
know what impact this interest had on preparations for the expedition
know why the Philadelphia area played an important part in preparation
know what skills/training/experience/education are necessary for successful preparation
assess whether or not Lewis was qualified for the job he was sent to do and why more training was necessary
KEY SKILL OBJECTIVES
Students will:
analyze and interpret maps
analyze, interpret, and synthesize primary and secondary sources via written work, discussions, imaginative/creative writing
examine multiple points of view and make connections between causes and results
FORMATIVE ASSESSMENT SUGGESTIONS
Ongoing assessments are in the form of in-class assignments and homework. In class, students analyze, compare, contrast, and synthesize primary and secondary sources through the use of graphic organizers such as Venn diagrams, charts, and paired reading.
Students will also evaluate one another's work or work as a whole class.